Fifteen love to the oldies at the Point-to-Point dinner, last out of the marquee and first in for breakfast, Mrs A showing plenty of form leaving the youngsters trailing in her wake and looking rather green on Sunday morning, she can show 'em...
A splendid party and I was delighted to collect an award on behalf of the Fife Hunt and, somewhat ironically, the best horse award on behalf of Peter Russell's Badger Foot, my speech was suitably effusive. I haven't looked at how big the cheque is but the prizes are all well worth winning, Kit collected a very smart racing saddle along with a historic trophy bedecked with familiar names, some of which have gone on in the sport, others of which, well, haven't...
The Queen's Birthday Honours gave much pleasure for a variety of reasons, from a racing perspective the honouring of Henry Cecil was wonderful, do read this
article
in yesterday's Observer and don't miss the awesome Frankel tomorrow in the 3.45 at Ascot, sadly we will be watching courtesy of the BBC having been eliminated from the Ascot Stakes, at least we tried, but worry not, I do believe Fabby Frank is dusting off his laptop and will be producing his usual list of suggestions after a summer immersed in academia.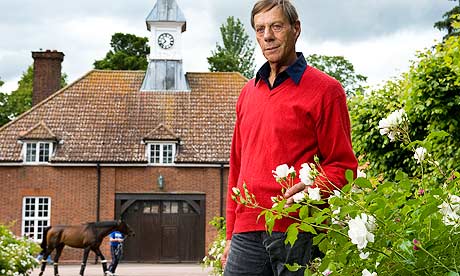 Sir Henry with his roses