I have to confess to a certain ambivalence towards the Olympics until I was completely blown away by the Opening Ceremony, since then it has just got better and better and at a busy time I have tried to duck in for a slice of the mesmerizing action whenever possible. Last night it was in the bar in Gatwick Airport for GB's golden hour, the roar that went up when Jessica Ennis broke clear in the home straight of the 800m was simply amazing and demonstrated precisely what the Olympics are about, bringing people together in a shared passion for sport (a stark contrast to the headlines this time last year when the streets were ablaze). Sport can change lives for the better, so far the Olympics are delivering more than the organizers could ever have dreamt, the trick now is to seize this momentum to make a lasting difference.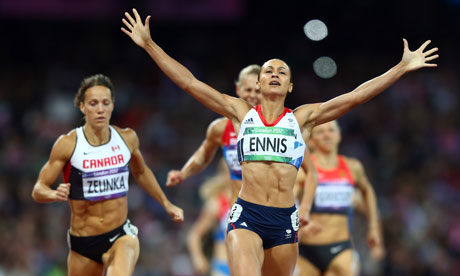 Elation!
We were waiting for a late flight back after a day-trip to Glorious Goodwood, we were guests of one of the sponsors and proud parents watched Lucy assist in the presentation of the prizes for the Group One Nassau Stakes as a "brand ambassador" for the sponsors Markel. On Friday evening she rode her first winner as a professional on the flat and she won't be resting as she has five rides at Carlisle tomorrow night, Kay gee Be in the 6.05, Face East in the 6.35, Insolenceofoffice 7.05, Hot Rod Mamma 8.05 and Shakerstyle in the 8.35. I am hoping to be there en route to two days at Doncaster Sales.
First past the post at Musselburgh
Overcast with light showers here today, fortunate to miss some of the heavy downpours, quiet day with horses on the walker and in the paddocks, one or two summer horses having a short break, others arriving (Elmatiigra on Friday) and others gradually stepping up their work, new stables nearly complete....
A well known vet and racecourse steward deplores the bad luck that struck Hamilton last night