Standing in a dank Perthshire wood on a dull November afternoon I was transported to a different place listening to the commentary of Kauto Star's magnificent victory over the heirs apparent at Haydock yesterday. Seldom have I felt so overwhelmed with excitement listening to a horserace, no money involved, I don't know the connections, essentially it should have meant nothing to me but it meant everything thanks to the pure admiration I have for one utterly exceptional steeplechaser. It was an iconic victory and united the fractured world of racing in rapturous praise, we all wanted to see him do it just once more, we all thought maybe the lights were dimming but doubts were swept aside, fantastic.. this is what it is all about, the horses, they are humbling in their ability to transcend.
Kauto Star
Well, back down to earth, another gentle Sunday morning in the office making plans, this week it looks like Sedgefield Tuesday (Sydney Cove and possibly Amulree), Musselburgh Friday (Isla Patriot, the Paddy Premium and possibly...... the Buffalo) then Newcastle and Carlisle next weekend.
Lucy will be in action on a few of the above and hopefully at Wetherby on Wednesday, Los Nadis ran well for a long way in the big hurdle at Haydock, great experience for Lucy to ride in a top class race like that with all the top jockeys, onwards & upwards!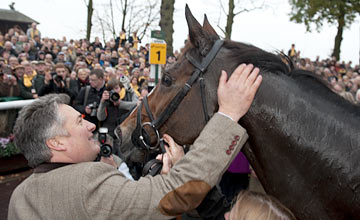 PFN greets the mighty one, how proud he must be